Purchasing Encounters Materials 3
Student Book 3 Program Components
| | | |
| --- | --- | --- |
| Student Book 3 Print Edition | Student Book 3 eTextbook Edition | Online Workbook to Accompany Student Book 3 |
| | | |
| Includes 24 months of media access on the Encounters website. | * Note: access to website must be purchased separately. See below to order individual media access. | Includes 24 months of access to the online workbook. |
| List Price: $59.99 | List Price: $43.99 | Coming Soon |
| Instructors: Click here. | |   |
Student Book 3 Value Bundles
Student Book 3 Print and Digital Bundle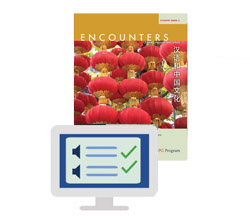 SB3 Print Edition
Includes 24 months of media access on the Encounters website
Online Workbook (printed code)
Coming Soon
If you have additional bundling or ordering needs, please contact us to let us know how we can help.
Student Book 3 Media Supplements
Media Access Only

Character Trainer App

Purchase 24 months of access to the Encounters website.
Learn more about the Character Trainer, available for iOS and Android devices.
List Price: $19.99
List Price: $3.99
Buy
Are you considering Encounters for your classroom?
Examination Access: Examination Access is a great way to see Encounters in action! We'll give you 1 month of access to the first few chapters of text and media from Student Book 1, so you can try Encounters in your classroom while making the decision to adopt.
Examination Copy: If you're considering Encounters for your classroom and would like to request an exam copy, click here for detailed information.
Desk Copy: If you've already adopted Encounters, we will provide you with a desk copy free of charge. Please complete the following form to request your desk copy.
Are you ready to place an order?
If you are an instructor and would like to purchase copies of any book in the Encounters program, contact your campus bookstore about placing orders with Yale University Press/Triliteral LLC. To order books directly, call 1-800-405-1619. If you are interested in ordering exam or desk copies of any book in the Encounters program, send an email to encounters.chinese@yale.edu or fill out the following contact form.